Doorstep still smiling after a soggy FloFest!
2016-06-25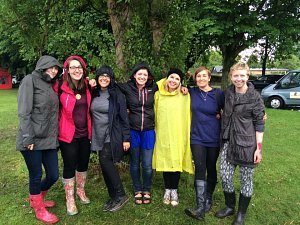 A huge THANK YOU to the amazing Doorstep crew at FloFest today, many of whom gave their time for free to keep the play, cake and face paint flowing all day. We got rained on, hailed on, and squelched through the mud but we made it. Well done to all the organisers and everyone who made it such a great atmosphere despite the weather.
It was lovely to see lots of Doorstep regulars come to play with us at the Festival, and Sandra's Doorstep Kitchen goodies were so popular that people were braving the bog around our stall to buy them by the end of the afternoon!
FloFest is a great example of the thriving communities in our part of Oxford - thanks to everyone who made it such a great event.