Step Out
The STEP OUT project has closed and we are unable to accept any referrals.

If your matter is a safeguarding emergency please call the MASH on 0345 050 7666 or the police 999.

We are proud of STEP OUT's ambition and innovation, how we were able to protect vulnerable young people and tackle CE from a grassroots level and how we moved to working with children, young people and adults in the broader context of CE.

Started by Donnington Doorstep in November 2011, the Step Out Project worked with young people who were at risk of, experiencing or survivors of exploitation.

Step Out offered compassionate, holistic support to young people through nurturing and trusting relationships, creating a safe space and providing a flexible approach. Our practice included contextualised safeguarding, understanding that young people are vulnerable to abuse in a range of social contexts. We know that young people who are supported emotionally are better placed to thrive and develop new skills and confidence.

The Step Out Project began with a focus on child sexual exploitation due to working with victims of the Bullfinch operation in 2011 which led to a trial in 2013. We went on to also work with those impacted by different forms of exploitation that are equally important to tackle such as criminal exploitation, county lines, modern slavery and trafficking, applying what we'd learnt from working with victims of child sexual exploitation, in order to see children as victims, not criminals, and give them the help they needed.

The following organisations are helpful resources that STEP OUT recommend:
1. For young people, parents, carers and professionals: www.thinkuknow.co.uk and www.fearless.org
2. Local organisation SAFE! provides support to children and families around the Thames Valley who have been affected by crime or abuse www.safeproject.org.uk
3. Parent and carer support: paceuk.info/for-parents
4. Professional support: www.nwgnetwork.org
5. Information and advice regarding exploitation: Youth Justice and Exploitation


Here are our top 10 recommendations based on what we have learnt through our work since 2011.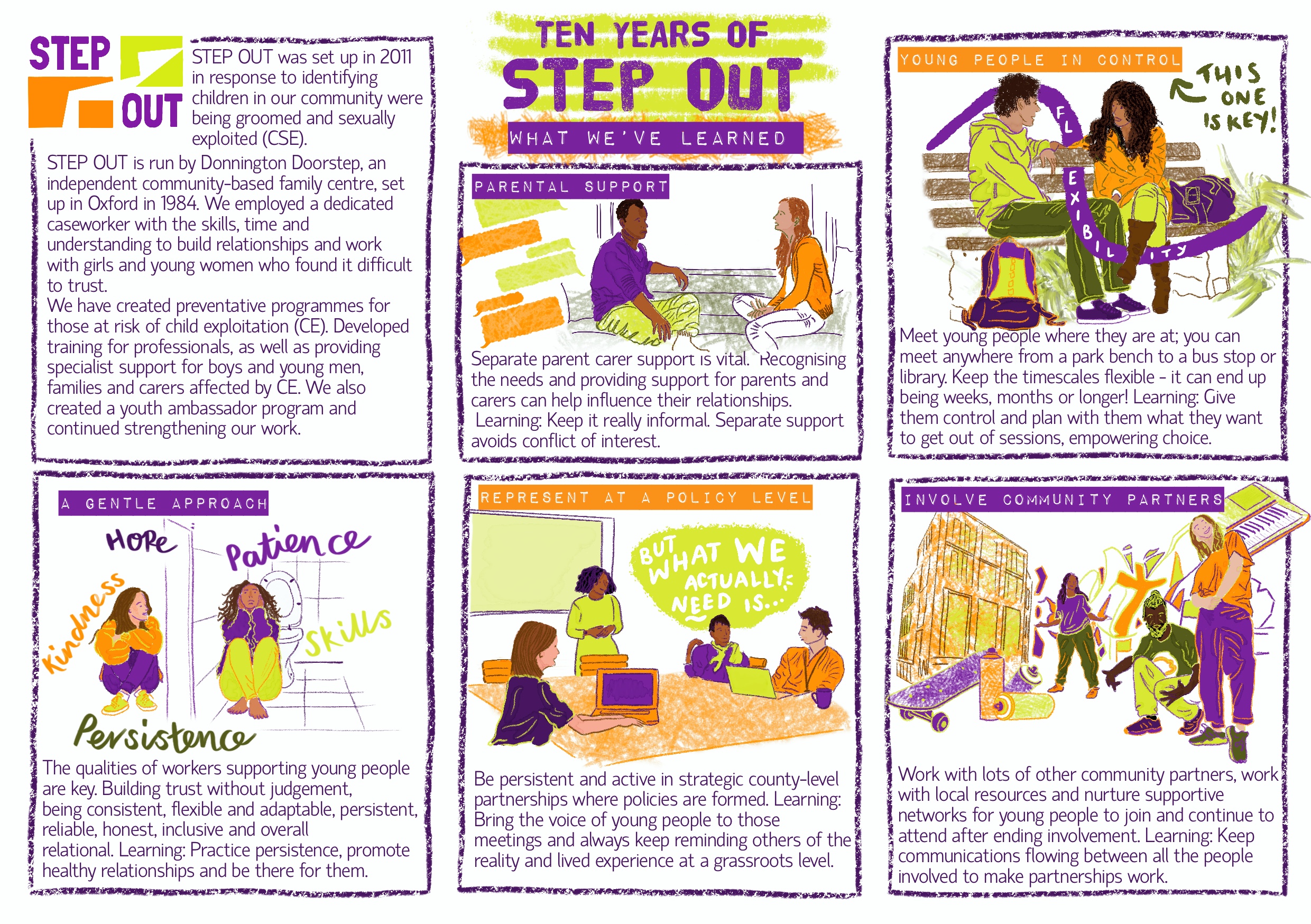 ------